Below is ongoing detail. I will add more to this post as the trip unfolds.
Day 1 – 22nd June 2016
Graham and myself are on a European adventure to Friedrichshafen (link). We embarked on our journey at 11am UK time on Wednesday 22nd. An easy journey to Dover was followed by an earlier than planned crossing (at 3:15pm) to Calais via DFDS.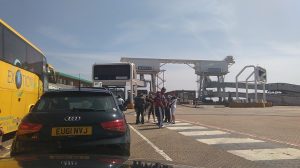 The ferry couild have been named the Marie Celeste as we were 2 of 4 people using the aft lounge.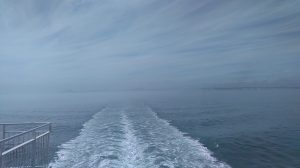 On investigation we realised that the majority of the travellers were truckers, filling their lounge to capacity. We arrived in Calais at 5:50pm local time and proceeded through Calais passing the Bleriot memorial on our way to the Formule 1 motel. Following check in an evening meal was had at Flunch a short walk away and a browse through the Auchen Hypermarket. The night was pucntuated with Thunder, Lightning and HEAVY Rains.
 Day 2
We awoke at 7am and were on the road by 9am proceeding to Dunkerque followed by Steenvoorde where an uneventful crossing into Belgium was undertaken. Then on to Epres, Kortrijk, Tournai, Mons, Charleroi and Namur with a stop just after Liege for Lunch and the first part of this post. On the way we drove through many storms some with the biggest hailstones ever, passing out into glorious skies and 30+ degrees Centigrade.
Continuing after lunch saw us past Aachen to Bad Neuenahr-Ahrweiler on the river Ahr. after settling in at a spenldid, clean, tidy and welcoming youth hostel (Below) we joined approximately 150 schoolchildren and their handlers for an evening meal.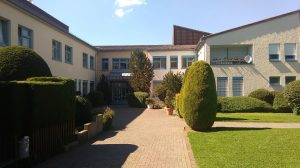 After dinner of three courses we took a stroll into Ahrweiler along the river. The town of Ahrweiler has a restored wall and cobbled streets as below where a pleasant evening was enjoyed.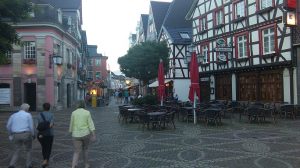 Day 3
started as day 2 at 7am for ablutions and a continental breakfast, once again with the cast of Oliver Twist. It is to be remembered however that we were in their territory as neither of us could be considered to be youths!
Travelling saw Koblenz with stunning views at a stop of the Moselle Valley (below) then Stuttgart followed by loads of scenery.
Lake Constance then came into stunning view followed by a drive down the eastern side arriving at Friedrichshafen YHA at approximately 4pm. We have found that we are 2 of 212 people staying here. Everyone of which appears to be an amateur or XYL.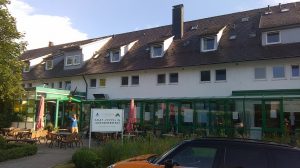 Bicycles have now been rented for tomorrows short ride into the Messe for the 2nd day of the rally.
Our evening meal was taken at a restaurant over the road and co-located with a campsite on the shore of Lake Constance. Some discussion of the menu contents was discussed until an English menu was provided. A brief walk along the shoreline was completed before bed.
Day 4
Day 4 started at the usual time with the usual routine. We then took a short ride on the bikes (missing the queues and parking) to the Messe. Shown is Hall A1 and A2 in the distance.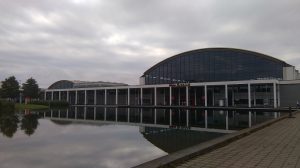 The rally is split into four halls/hangers as follows;
Hall A1 is for Manuafacturers, Associations and non-flea market traders with a huge DARC stand
Hall A2 is for the talks and association meetings
Hall A3 is the first flea market hall (14 rows by 40 odd tables)
Hall A4 is the second fleamarket hall with test equipment auction (14 rows by 30 odd tables) Where can you get 1,000 tables?
Hall A5 is an added bonus of the Bodensee Maker faire.
Other areas included a stage for talks and presentations, QSL wall and special interest groups including an ARDF contest
Full details of the halls and traders can be obtained at the link above.
We then spent the whole day having our first look around and trying to ensure we walked every gangway. It did take us all day to view A1, A3, A4, and A5 just once. Halls A1 (where we signed in with the RSGB) and A3 were completed before lunch with A4 and A5 after lunch. Many purchases were made with some return to stalls previously dismissed.
We then returned via bicycle to the YHA to rest and recuperate after a day on the hoof.
Our evening meal was taken at a local Italian fish restaurant along the river from the YHA. We then returned to the YHA for coffee and discussion with other HAMS (the place being full of them) and then to bed.
Day 5
Day 5 started at the usual time with the usual routine.
Travel to the Messe was by car today to allow for antenna purchase. Parking was a mere 4€ (£3.20) and then into the halls for another walk through to see everything missed yesterday. Those who have been to rallies with me will know that I'm not fast, except for when in the car. More purchases were made with some bargaining as it is the last day.
Major manufacturers were there including;
Yaesu (who were very free with their freebies)
Kenwood
ICOM
Hillberling
Lusso
Hytera
FlexRadio Systems
There was a wide range of items to be purchased including;
New and second hand transceivers (at least 4 large stalls selling new Transceivers)
Lots of Valves and restored/un-restored equipment
lots of Microwave bits
loads and loads of components
Vacuum capacitors
some tool stalls
some computer stalls
Cable and rope
Antennas (at least 6 stalls in A1 plus stalls in the flea market)
3D printers and supplies
The obligatory XYL gift stalls (only 4 i think)
Our evening meal is planned for the local Italian fish restaurant along the river.
Many photos and videos are available from me in addition to those within this post.
Day 6 & 7
Days 6 and 7 will see a return to Bad-Neuenahr YHA and a return ferry crossing via Dunkirk with arrival home late on Tuesday night.
Other Items
The youth hostel nights cost on average €40 and included a breakfast and packed lunch. An evening meal can also be purchased where it is available. Breakfasts consisted of cereals, fruit, yogurt, meats and cheeses with breads. Accommodation was either on or off-suite depending upon the hostel and availability.
The route taken was fairly painless with good continental roads and knowledge of where the hold-ups may be.
Entry into the Rally was either €9 per day or €18 for all three days in advance.
The third day did however see some stalls leaving early including the RSGB packing up at 9am!
Paul
M0ZMB